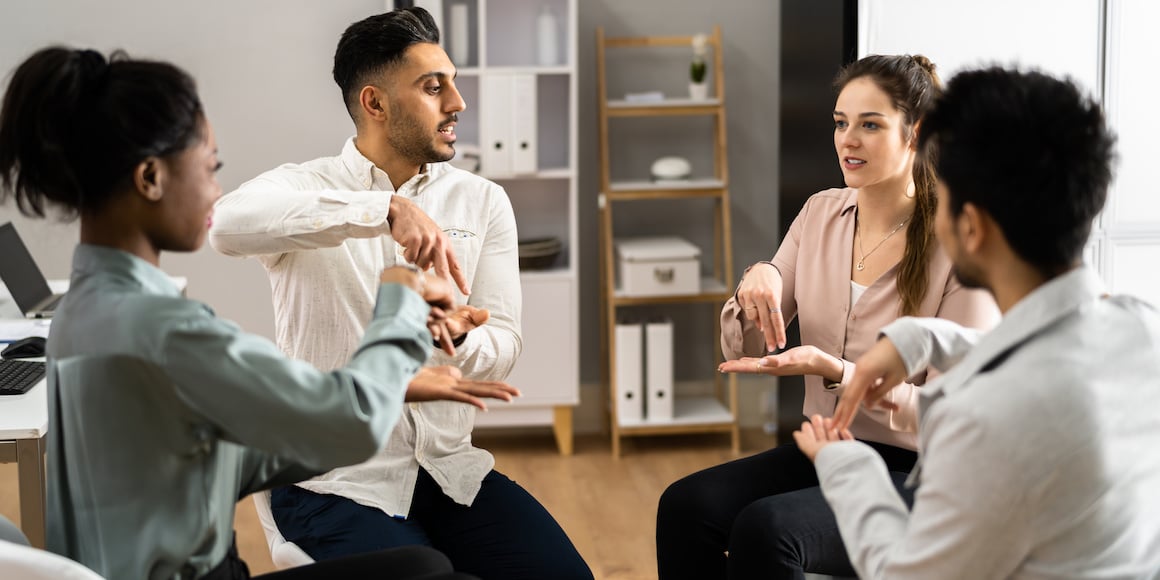 If you want to make a difference in the lives of others, working with people with disabilities is a great vocation to consider. There are many available career paths, each offering unique opportunities to work with individuals with physical disabilities, learning disabilities, and other types of disabilities.
By selecting an educational program that prepares you for working with people with disabilities, you can start building a career that aligns with your passions.
Benefits of Working with People with Disabilities
When thinking about your vocation—the career path you feel called to pursue—you may have always felt drawn to working with people with disabilities. You may have even considered it while following another career path. For example, if you're a teacher, you may want to specialize in working with children with disabilities. With the proper education, you can pursue that career path.
Working with adults and children with disabilities can be incredibly rewarding for you and the individuals you help. You get joy from using your gifts and pursuing your passions, and you also empower people in their daily lives, whether in the workplace, at school, or with family and friends.
Working in a field that supports people with disabilities offers many exciting career paths. According to the Centers for Disease Control and Prevention (CDC), approximately 26 percent of the US population has some kind of disability. As a result, you can find opportunities to work with people with disabilities almost anywhere.
Some of the many careers working with individuals with disabilities include the following:
Rehabilitation specialist
Counselor
Developmental disability case manager
Disability support coordinator
Special education teacher
Mental health case manager
Intervention specialist
Social worker
How to Prepare for a Career Working with People with Disabilities
You've got a passion for helping individuals with disabilities. Next, you'll need to select an educational program to prepare you for your chosen career path.
Here are some of the degree programs that can help you get started on your path toward a career in social work, social services, and related areas:
Bachelor of Social Work (BSW) Program
The Bachelor of Social Work degree opens doors for those interested in becoming a social worker. It prepares you for state licensure so you can immediately start work after graduation. You can complete the BSW program online and have your degree in as little as 27 months if you're already working. You can fast-track your career with an accredited program and take advantage of a schedule designed for working adults with various responsibilities or commitments.
Human and Social Services Leadership (MBA-HSSL) Program
If you already have your BSW or a related bachelor's degree, the MBA in Human and Social Services Leadership may be an excellent option. This program is ideal for students interested in a leadership role in governmental, nonprofit, or social service organizations. It takes only 19 months to complete and offers coursework in non-therapeutic areas such as:
Secondary trauma support
Program planning
Grant writing
Information systems and security
Intervention Specialist Programs
Intervention specialists help students with disabilities navigate life at school. They create and adjust Individualized Education Plans (IEPs), adapt coursework, and plan activities specific to each student's needs.
As an intervention specialist, you can focus exclusively on a specific disability, such as a learning, emotional, or physical disability. But first, you must have the necessary education and license to begin a career as an intervention specialist. Here are two programs that can help you pursue this rewarding career path:
Master of Arts in Education (Intervention Specialist—Initial License): This degree program is ideal for individuals who don't already have a teaching license. It will equip you with the knowledge to develop instructional strategies and learning assessments. In 27 months, the online program will prepare you to earn your initial Ohio state license as an

Intervention Specialist for Mild/Moderate (ISM) Disabilities

, the first license in special education. In this hybrid program, you complete coursework online and get valuable hands-on experience in the classroom.


Online Master of Arts in Education (M.A.Ed.)—Intervention Specialist Degree Program: The

M.A.Ed. Intervention Specialist Degree Program

is designed for teachers interested in working with students with disabilities from kindergarten through 12th grade. You can complete this entirely online Intervention Specialist Program in 18 months, resulting in a Master of Arts in Education degree and Ohio Intervention Specialist for Mild/Moderate Disabilities licensure. Completing this program can enhance your existing credentials and open the door to a range of careers.
Get Started on a Rewarding Career Path at MVNU
Working with people with disabilities can help you cultivate your passions and explore a range of rewarding career paths. Whether you seek a bachelor's or master's degree, several flexible programs are designed to fit your busy schedule and prepare you for a career working with children and adults with disabilities.
For more information about available programs to help you pursue your calling, contact us today.