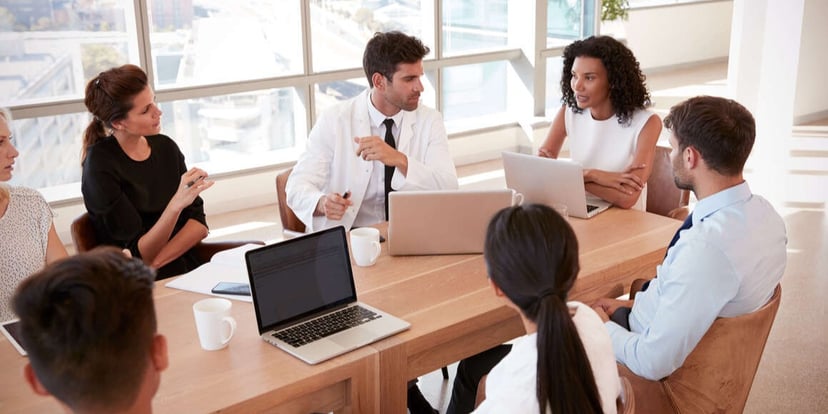 If you want to advance your health care career, a Master of Business Administration in Health Care Administration (MBA-HCA) is a great degree program to consider. This degree can boost your credentials and expand your horizons so you can take on administrative roles in the health care industry.
Top Benefits of a Health Care Administration Degree
Wondering how an MBA-HCA can help your career? There are many reasons to consider going back to college to get an MBA in health care administration:
Make a change within your field.
A career in health care can be both rewarding and demanding. Some medical professionals find they're becoming burned out doing clinical work, but they don't want to leave the vocation to which they feel called. Others may feel their talents are better suited to administrative work than clinical work.
Whatever the case, a health care administration degree can allow you to stay in your field but pivot to a different role. Your experience as a clinician will continue to be relevant, and your MBA studies will give you the other skills you need to excel in your new role.
Qualify for a promotion.
Getting a master's degree can open up opportunities for career advancement. If you feel stuck at your current level and are ready for a change, earning a health care MBA can qualify you for more advanced levels.
For example, according to Indeed, earning an advanced degree is one of the most common ways for nurses to advance their careers. Adding an MBA-HCA to your resume can help you qualify for managerial and administrative positions that otherwise would have been out of reach.
Increase your earning potential.
More advanced positions typically come with higher salaries. Some health care workers may find their current position isn't enabling them to achieve their financial goals. This is a great reason to consider pursuing an MBA.
For example, according to the Bureau of Labor Statistics (BLS), the median annual salary for medical and health services managers is $101,340. This six-figure salary can make the cost of an MBA program not just a cost, but a smart investment that can pay for itself many times over.
Health Care Administration Jobs
An MBA in health care management or administration can qualify you to work in a wide variety of roles. For example, you could pursue any of the following positions:
Hospital administrator: Hospital administrators oversee operations and staff for entire medical facilities or, in the case of large hospitals, for individual departments.


Medical practice manager: In addition to hospitals, medical practices of various kinds—from family practitioner offices to dental practices—require managers or administrators to oversee daily operations.


Home health administrator: The need for home health care is expected to

grow 32 percent from 2020-2030,

increasing the need for quality care for patients in their homes


Clinical laboratory manager: Clinical labs require managers to oversee the work of scientists and technicians and ensure the lab follows relevant policies and procedures.


Public health administrator: MBA-HCA holders can serve as leaders in governmental health agencies, nonprofit organizations, and public health campaigns.


Policy analyst or researcher: People with health care and business expertise can play a critical role in researching and developing public health policies.
Pharmaceutical brand or project manager: Pharmaceutical companies need managers to organize product development projects. Pharmaceutical brand managers and project managers can also supervise staff and monitor budgets.


Health program specialist or coordinator: Some health care administrators lead specialized programs that educate and treat patients with specific conditions.
Health care consultant: Consultants can work for various health care organizations, auditing their current practices and budgets and making recommendations to improve their operations.
Business development manager: In health care, a business development manager may root out inefficiencies in a health organization or find better ways to market the business to improve profitability.
Medical entrepreneur: Entrepreneurs with medical backgrounds can use their expertise to develop new products or solutions. Entrepreneurs work independently rather than as employees of a company.
The professional possibilities are nearly endless for someone with an MBA-HCA. Jobs in health care administration run the gamut across both the public and private sectors and in various settings, such as labs, medical offices, hospitals, and more. Even if you find that one role doesn't quite suit you, there are other jobs you can confidently apply for with your new qualification.
What an MBA-HCA Program Entails
If you're considering getting a health care MBA, you'll be pleased to know you can complete the MBA-HCA program entirely online through Mount Vernon Nazarene University (MVNU).
The MBA-HCA program at MVNU involves 12 courses, including six general business courses and six courses focused on health care. These industry-specific courses cover topics such as health care management, health care leadership, and the legal aspects of health care organizations. You can build on your existing clinical knowledge and further your understanding of key business-related topics.
The online health care MBA program takes approximately 19 months to complete. You can also sign up for the accelerated programs—which run for 15 or 11 months—while taking advantage of asynchronous learning and continuing to work if you want. That means you don't have to put your life on hold while you pursue your master's degree. You can continue to balance the other priorities in your life while making this major investment in your future.
Get Started Earning Your Online Health Care MBA from MVNU
An MBA in health care administration can open up new doors to exciting and advanced roles within the health care field. Whether you are looking to earn a promotion or simply ready for a change, an MBA-HCA can help you achieve your goal.
As you look for health care MBA programs, consider the fully online MBA-HCA program from MVNU. With dedicated faculty and staff who treat every learner like a valuable member of our community, MVNU is far more than an online degree mill—we're a place where you can truly learn and thrive.
Want to learn more about the online MBA programs that can help advance your career? Check out our free e-book, Comparing MBA Online Degrees for Health Care Professionals: MBA-HCA vs. MBA.