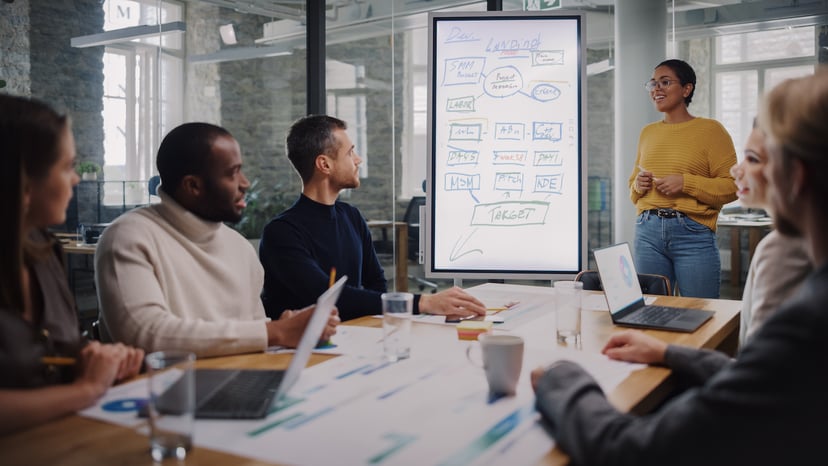 Given the complexities of today's business environment, just about every organization needs employees with project management expertise. Business projects can have multiple priorities, budget considerations, and deadlines, making it a must to have a project management professional on hand.

When you have a degree in project management, you can use what you have learned to help your organization execute projects on budget and on time. This post will outline how you can use your project management degree to support your organization's goals and find success at every stage of your career.
The Benefits of a Project Management Degree
A degree in project management provides the fundamentals necessary to lead teams through the project lifecycle, from kick-off to completion. The degree not only offers in-depth instruction in business operations and project management, but also helps you develop in-demand skills such as communication, problem-solving, and organization skills.
Here are some other benefits of a degree in project management:
High Earning Potential
A degree in project management is a lucrative choice with a healthy outlook. According to the US Bureau of Labor Statistics, the median pay for project management specialists was $94,500 in 2021, with a projected growth in employment opportunities of 7 percent through 2031.
Opportunities for Advancement
Project management roles vary in scope and size from one industry and organization to the next, making it easier to find a role that matches your skills and experience level. Recently, CNBC Make It spoke to three different project management professionals with skills ranging from entry-level to more than four years of experience, and they earned between $65,000 and $125,000 per year.
Springboard for an Advanced Degree and Certification
A project management degree can lead you down many career paths and provide various opportunities for future study and certifications.
If you're just getting started, you can pursue an undergraduate degree in project management. At Mount Vernon Nazarene University (MVNU), the online Bachelor of Business Administration (BBA) in Project Management program equips you with the skills and knowledge needed to manage projects and support your organization's productivity and profitability.
Once you've completed a bachelor's degree program, you can consider your options for advanced study and professional development, such as:
Master of Business Administration (MBA): An MBA program builds on your undergraduate degree and prepares you to manage projects of increasing complexity, budget, and size. When you pursue your undergraduate and graduate degrees at MVNU, you can also earn dual-degree credit, which can further accelerate your learning.
Certified Associate in Project Management (CAPM): The CAPM certification demonstrates an understanding of the fundamentals, terminology, and processes of effective project management. Given its focus on project management fundamentals, MVNU Online's BBA in Project Management can be an excellent launchpad to help you prepare for CAPM certification.
Project Management Professional (PMP) certification: This certification validates your ability to lead and direct projects and teams in any industry.
Program Management Professional (PgMP) certification: This certification, typically completed after the PMP, is designed for those who manage multiple complex projects across myriad functions, organizations, regions, and cultures.
Tips for Successful Project Management
Like other career paths, finding success in project management requires an optimal mix of technical and soft skills. By applying them consistently throughout your project management career, you will be in an optimal position to pursue your goals for growth and advancement.
Take the following actions to make the most of your project management degree:
Continuously improve your communication skills.
According to the Project Management Institute, project managers spend 75-90 percent of their time communicating. As a project manager, you'll need to communicate project responsibilities, key deliverables, and budget parameters. You'll also need to regularly relay information about timelines and deliverables so all stakeholders understand accountabilities and progress.
A project management degree program provides formal education experiences that help you hone your communication skills. When you bring these skills into the workforce, you'll be prepared to continue improving those skills as you make the journey to communication mastery.
Proactively address potential obstacles.
No project manager has a crystal ball, but when you take the time to think through the moving parts of a project, you can identify and address potential challenges before they become insurmountable. With a project management degree, you'll have the know-how to apply project management best practices when assessing risks and determining how to mitigate them.
Become a process expert.
Every project requires planning, execution, and delivery. And when you have an effective process for taking those actions, you can manage projects with greater predictability and clarity for all involved.
With the benefit of a project management degree, you won't have to rely on trial and error to discover which processes work best. Instead, you'll come to your role equipped with the latest knowledge about best practices in project management. For example, MVNU Online's project management degree program provides the tools you need to learn every stage of managing a project. Through the program's career-focused coursework, you'll learn how to create and execute processes that result in successful project completion.
Listen to the data.
In the heat of a complex project, emotions may be riding high. You will need to resist the temptation to let fear, stress, or frustration influence your decision-making. Instead, successful project managers apply what they've learned in college to make sound decisions based on data and analysis, and enjoy better outcomes as a result.
Recognize and avoid common problems in project management.
Although no two projects are exactly alike, there are some common roadblocks you should be able to recognize and address. They include:
Scope creep: What starts as a simple goal can sometimes snowball into something bigger. However, when you have the know-how to prevent scope creep, you can avoid having your project become something that no longer resembles the initial scope, budget, and goals.
Unanticipated budget overages: According to a Wellingtone report, only 43 percent of companies mostly or always complete projects on budget. When you have the benefit of a project management curriculum that includes case studies and practicum experience, you'll learn techniques for staying on top of the budget so there are no surprises down the road.
Unclear accountabilities: When several individuals or teams are working on a project, there can be gaps or overlaps in accountabilities. But when you know how to communicate who is responsible for which outcomes, you can keep team members on track and ensure each person does their part.
Become a Successful Project Manager
At MVNU Online, we understand the importance of getting an education that aligns with your career goals and aspirations. That's why our project management degree combines the fundamentals of business administration with the coursework needed for success as a project manager. Additionally, you can continue building your career while you complete the program online, all on a schedule that works for you.
If you're ready to begin your journey toward a successful career in project management, contact us to learn more.