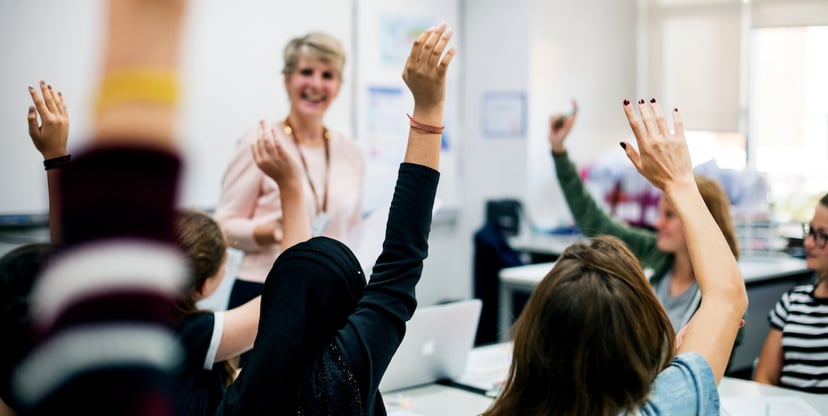 Are you interested in the field of education? There are pathways to becoming a teacher beyond enrolling in an education degree program straight out of high school. If you have already earned a bachelor's degree—regardless of whether you're working in another career field or focusing on other responsibilities—you can easily pursue your passion for teaching.
A Master of Arts in Education is an ideal option to help you start a new, rewarding career in education. Read on to learn how to become a teacher:
Why consider a career change to teaching?
Making a career change can feel daunting. However, it can be a positive step toward achieving the life you want.
There are some smart, practical reasons to consider the field of education. According to the Bureau of Labor Statistics, teachers are in demand, and the profession is growing steadily. From 2020-2030, employment is expected to grow by 7 percent for elementary and middle school teachers and 8 percent for high school teachers.
If you have an aptitude for teaching, you can excel in this field. Teaching can be an excellent way to apply certain skills and subject area knowledge. However, for most people, what it comes down to is that teaching isn't just a job—it's a vocation. In other words, it's something you feel called to.
Some of the best reasons to become a teacher aren't things you can easily quantify. You can make a difference in the lives of countless students, become a lifelong learner, and enjoy working in a field you're passionate about.
What is a teaching certification?
To become a teacher, you have to understand that this field generally requires certification or licensure. To become a teacher in the public school system, you need to earn not only a degree, but also a certification from the state. (Requirements for becoming a teacher vary in non-public schools.) Certifications are specific to certain age groups and—for older students—subject areas.
MVNU Online offers a program to prepare students to achieve their Resident Educator License from the Ohio Department of Education. Students can choose the age group and subject area they want to be certified in to tailor their program to this specific license area.
How do you become a certified teacher in Ohio?
The steps for how to get a certification and the certifications themselves vary by state. In Ohio, students are required to:
Have a bachelor's degree.
Complete a state-approved educator preparation program.
Pass certain exams.
Be cleared by a background check.
By fulfilling these requirements, you can obtain your teaching certification and qualify for a job as a teacher in the public school system.
How long does it take to become an Ohio teacher?
The time it takes to become a licensed teacher depends on your existing credentials and the type of program you enroll in.
If you already have a bachelor's degree (in any subject), you can become a teacher in less time than if you were beginning with a bachelor's program. That's because having a bachelor's degree allows you to enroll in a master's program to become a teacher.
Get your master's degree and become a teacher in just two years.
It takes approximately 22 months to complete the online Master of Arts in Education—Professional Educator's License program from MVNU. This includes the coursework and field experiences that make up the program. (If you want to teach a specific content area you didn't study in your bachelor's program, you may need to add additional coursework to your program.)
Your coursework will prepare you for all required licensure exams, and staff will help you register and complete the tests during your program. That means in just two years, you could be eligible to apply for your Resident Educator License and begin your teaching career!
Don't put your life on hold!
The coursework for this program is completely online, meaning you can continue working or managing other obligations. It isn't until your student-teaching at the end of the program that you'll need to shift gears and focus on your new education career.
One MVNU education student described her experience with managing coursework in our asynchronous learning program:
"The coursework was due at a cadence that made it easy for me to schedule my other obligations. I was able to complete my coursework outside of work hours and set specific times for myself that were dedicated to completing my coursework. While a lot of it is self-paced, having weekly deadlines scheduled throughout the week (and not just on one day) helped me stay on track."
How does the professional educator license program at MVNU Online work?
MVNU offers a Master of Arts in Education—Professional Educator's License program for anyone with a bachelor's degree interested in becoming a licensed teacher in the state of Ohio.
This program consists of a total of 43 credit hours, the majority of which come from coursework. The remaining hours come from student teaching.
What coursework is in the online education program?
Courses cover the "how" and the "what" of teaching. In other words, they consist of instruction on teaching methods (i.e., pedagogy) and in the content areas you plan to teach.
The courses you take will depend on the specific license area in which you want to qualify. Students start by choosing their license area, and our staff will identify the course requirements they must complete.
Students can choose from any of the following licensure areas:
| | |
| --- | --- |
| License Area | Grades |
| Elementary Education (Primary P-5 license) | Pre-K-5 |
| Health and Physical Education | Pre-K-12 |
| Integrated Language Arts | 7-12 |
| Integrated Mathematics | 7-12 |
| Integrated Social Studies | 7-12 |
| Integrated Business | 4-12 |
| Life Science | 7-12 |
| Physical Science | 7-12 |
| Spanish | Pre-K-12 |
| Visual Art | Pre-K-12 |
| Middle Childhood Education* | 4-9 |
*Students must also complete two of the following middle-childhood concentrations:
Language arts
Mathematics
Science
Social studies
What is the student teaching component of the online education program?
Student teaching is the experiential component that prepares learners to take on a teaching role. Students can use student teaching to put what they learned in their online classroom into practice.
A graduate of an MVNU Online education program described how valuable this experience was to her overall learning and readiness:
"My in-classroom experience was wonderful. I had a great mentor teacher and university supervisor. My MT was very experienced and gave me many tips, suggestions, and advice [...] By the end of the student teaching experience, it felt odd for me not to be teaching full time. I learned so much and gained a great deal of experience."
Take the first steps toward a rewarding teaching career with MVNU Online's M.A. in Education program!
If you're interested in becoming an Ohio teacher, the Master of Arts in Education—Professional Educator's License is a great place to start! Our students love how this program prepares them to enter the teaching profession. As two of our former students put it:
"I would absolutely recommend MVNU to anyone who is interested in becoming an educator. This program was amazing and gave me everything I needed."
"I would highly recommend the MVNU online program. Completing this program and obtaining my degree has undoubtedly changed my life for the better and continues to do so."
Want to learn more about the online education programs we offer at MVNU? Read the e-book, Which Education Program Is Right for Me?