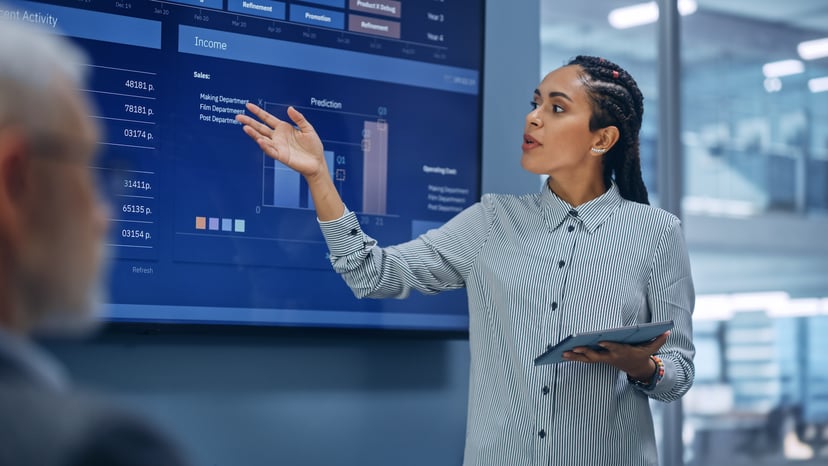 Pursuing a Master of Business Administration (MBA) in Finance can open the door to varied career opportunities. The degree can boost your success in your current career path or help you transition into a new one, including financial analyst, investment banker, or consultant. Even if you are brand new to the field, an MBA in Finance can help you launch a lucrative and rewarding career.
In this blog post, you will learn about the earning potential associated with several finance career paths and how an MBA in Finance from MVNU Online can prepare you for further career growth and advancement.
The Earning Potential of Finance Careers
Earning an advanced degree increases your earning potential in many areas of business, and finance is no exception. If you've been considering a master's degree in finance versus an MBA, it's worthwhile to consider everything the MBA has to offer.
Unlike a master's degree in finance, which centers on a finance curriculum, an MBA in Finance provides a diverse business curriculum that positions you to pursue higher-earning positions. According to Glassdoor, the estimated pay for someone holding an MBA in Finance is $161,377 per year.
Earning potential for MBAs can vary depending on your experience, location, and career path. Also, because of the many available job opportunities around the country, you don't have to be an investment banker on Wall Street to make the most of your MBA.
Some of the possible career options and corresponding earning potential* for individuals with an MBA in Finance include:
*Figures represent the median pay, as calculated by the US Bureau of Labor Statistics
Another benefit of earning an MBA in Finance is that you don't have to work in the financial services sector to increase your earning potential. Individuals with Finance MBAs can build successful careers in various industries, including technology, health care, government, manufacturing, and consulting. According to a US News report, 2021 MBA graduates in consulting earned an average starting base salary of $147,178 per year. Here's what graduates working in other industries earned:
Financial services: $138,834 per year
Technology: $128,442 per year
Health care: $116,250 per year
How an MBA in Finance from MVNU Can Help
If you're interested in learning transferable business skills to improve your earning potential and advance your career, an MBA in Finance from MVNU Online is an excellent choice. The 19-month online MBA in Finance program is accredited by the Accreditation Council for Business Schools and Programs (ACBSP) and combines core MBA coursework with finance-specific courses in areas such as financial intermediaries, investments, and financial planning.
One of the benefits of completing the MBA program online is that you don't have to put your career on hold while you study. You can set a coursework schedule that works for you and immediately apply what you learn in your job.
In addition to the earning potential and flexibility of an online degree, there are other benefits of a Finance MBA from MVNU Online:
A Complement to Your Bachelor's Degree
Regardless of your bachelor's degree's discipline or major, earning your MBA degree in Finance from MVNU Online is a great way to build on your existing knowledge. For example, if you majored in economics when completing your bachelor's degree, earning an MBA in Finance will expand your knowledge with courses covering managerial economics and international debt markets.
Support for a Career Change
An MBA is a versatile degree. With a finance specialization at MVNU Online, you can gain exposure to business concepts that will help you transition into a finance-related role. As one educational consultant told US News, "[I] really attest to the power of [an MBA] for complete career reinvention: A Peace Corps volunteer who pivots to management consulting. A teacher who transitions to big tech. A veteran who goes into venture capital … There is no other degree that provides the launching pad to many different possibilities to chart your next career destiny."
Help Finding a New Passion
Completing your Finance MBA allows you to delve deeper into topics that interest you. By specializing in finance, you can delve into financial management topic areas and discover new interests. With rigorous coursework that allows you to see business management through a new lens, your degree may even enable you to find your true calling. For example, after graduating, you could begin advising clients as a financial advisor or managing the finance and accounting functions for a nonprofit or charitable organization.
Professional Networking Opportunities
Earning your MBA in Finance online puts you in a group with like-minded adult learners. Online programs tend to attract more working professionals than on-campus programs, so you're likely to establish relationships with people who share your goals for career advancement. Additionally, after you graduate, you'll join a diverse community of MVNU alumni who stay connected throughout their professional careers.
Enhanced Job Security
The business world is rapidly changing. An advanced degree not only helps you tackle your current job responsibilities, but also makes you more attractive to employers. With an advanced degree in finance, you'll stand out among other candidates, putting you in a more secure position with your current and future employers. In a 2021 survey conducted by the Graduation Management Admission Council (GMAC), 63 percent of recent MBA graduates strongly agreed that their degree gave them more job security, and 87 percent agreed the degree increased their overall employability.
Grow Your Career and Earnings with an Online MBA in Finance
A Finance MBA offers the optimal mix of mathematical rigor and management coursework to prepare you for a challenging and rewarding career. Whether you're just getting into finance or want to advance your credentials to get yourself closer to the C-suite, an MBA in Finance from MVNU Online can help you get there. You don't have to take time off of work or move to a new location. You can take classes on a schedule that works for you.
An online MBA from MVNU Online can be transformative. It can help you reach your savings goals, allow you to support your family, and help you feel more satisfied with your take-home pay. To see just how much an advanced degree can improve your earning potential, check out our infographic, "How Much Can You Earn at Each Level of Education?"