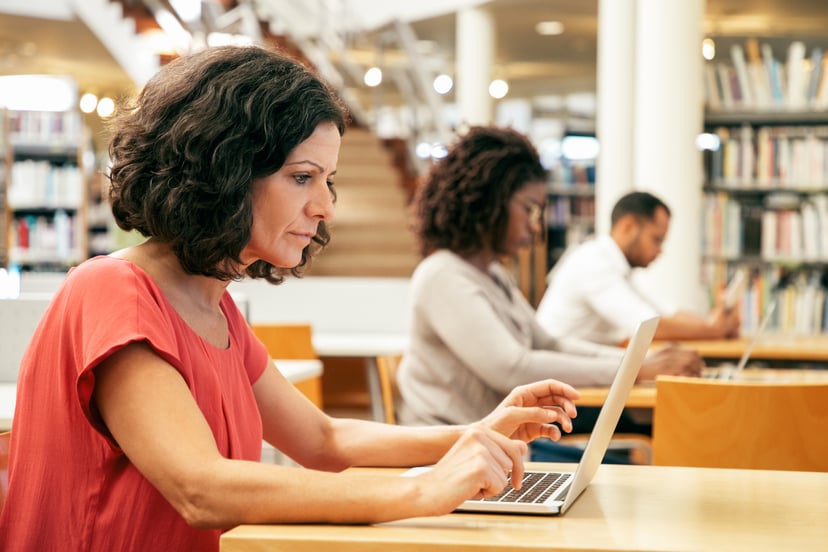 Attending an accredited college brings credibility to your degree. It lets future employers and your professional network know you are receiving a quality education from a reputable institution of higher learning.
But what is accreditation, really? And how much impact does it have on your education and career? Find out in this blog post.
What Are Accredited Colleges?
An accredited college has participated in a voluntary review process by a specialized body of professionals recognized by the U.S. Department of Education or the Council for Higher Education Accreditation (CHEA). The Department of Education is a federal agency that sets policies for all schools in the U.S., including institutions of higher education. The CHEA is the only national association focused exclusively on the accreditation of higher education institutions.
Accreditation is a source of pride for colleges, so you can usually identify a college's accreditation on its website. You can also find a list of which colleges and specialized programs are accredited by checking the Department of Education and CHEA websites.
How Colleges Become Accredited
During the accreditation process, which typically also includes site visits and peer reviews by other accredited institutions and higher education professionals, colleges must meet specific academic standards, covering areas such as teaching, learning resources and support, and processes for learning evaluation and improvement.
The initial accreditation process does not guarantee a college's accreditation status indefinitely. Depending on the organization, colleges typically undergo periodic accreditation reviews to ensure they are maintaining a level of quality education over time.
It's also important to note that not all colleges are accredited. Furthermore, not all accreditation bodies are recognized by the Department of Education or CHEA. According to College Choice, there are an estimated 400 "diploma mills" (schools that give degrees based on little to no academic achievement) and almost 100 fake accreditation bodies that are not recognized by federal governmental agencies.
Types of College Accreditation
There are many kinds of accreditation a college can obtain because there are regional, national, and program-based accreditation bodies:
National agencies accredit colleges throughout the U.S. and in some other countries. Mount Vernon Nazarene University (MVNU) is accredited by several national bodies and is also a member of the national faith-based Council for Christian Colleges and Universities.
Regional agencies can accredit institutions in a particular region of the country. There are currently six, each representing a region of the U.S. Mount Vernon Nazarene University (MVNU) is regionally accredited by the Higher Learning Commission.
Professional and specialized organizations accredit specific programs within a college—for example, business or nursing degree programs.
A Snapshot of MVNU Online Accreditations
Given the different categories of accreditation, it's possible for a college to have several different accreditations, depending on the degree program. MVNU Online offers degree programs with the following accreditations:
Benefits of Attending an Accredited College
Accreditation is about more than the seal of an accreditation body on a college's website. It means the college meets rigorous standards for a quality education. As a result, you can have the peace of mind that you're getting the education you expect.
Regardless of the setting—online or on a physical campus—pursuing an accredited degree program means that your education is of similar quality to other reputable colleges, including well-known universities. For example, completing your BBA or MBA at MVNU Online means that you can expect to be exposed to all the relevant business and leadership essentials that you would be at other accredited universities offering those degree programs.
When a college is accredited, this lets students, prospective employers, and government agencies offering student loans know that the institution is a bona fide college offering a quality degree program.
Some other ways attending an accredited college benefits your education:
It adds legitimacy to your education. Attending an accredited college tells future employers and professional licensing bodies that you completed a rigorous degree program at a reputable college, not a "diploma mill" or other for-profit institution.
It makes it easier to transfer credits. Many colleges and universities will only accept transfer credits from other accredited institutions. By attending an accredited college, you can be assured of a smoother process when you want your new college to recognize your previous coursework.
You'll maximize your opportunity for financial aid. Federal student loans, grants, and other awards are generally only available to students attending accredited colleges recognized by the Department of Education or CHEA. When you pursue your education at an accredited college, you greatly reduce the chances of becoming ineligible for the aid you need to complete your degree.
You'll be able to apply to more graduate degree programs. If you plan to pursue an advanced degree, you will have more options if your bachelor's degree is from a college with national, regional, or programmatic accreditation. Many graduate-level programs won't recognize a degree from a nonaccredited college.
You'll be eligible for professional licensing. State licensing boards—for example, those conferring the licensed social work designation—require individuals seeking a license to have a program-specific degree, such as a Bachelor of Social Work, from an accredited college.
You'll have access to more job opportunities. Many employers consider the college you attended and whether it's accredited by a reputable agency. Some employers, such as the federal government, may even make a degree from an accredited college a requirement for employment. As an applicant with a degree from an accredited college, you're less likely to encounter an employer that questions the validity of your degree.
Pursue Your Education at a Leading Accredited College
Attending an accredited college is worth it—not just because it means you'll get a quality education, but also because it smoothes the way for more career and advanced study opportunities. For these reasons, accreditation is just as valuable for you as it is for the college you attend.
Now that you know the answer to the question, "What are accredited colleges?" you can begin your search for one. In that search for the best online degree programs for working adults, you'll find a rich selection of accredited programs at MVNU Online. With degrees in business, education, nursing, and other areas, we offer adult learners like you challenging coursework that fits your schedule no matter where you live or work. If you're ready to learn more about MVNU's world-class accredited online programs, complete our online information request form or call us at 1-800-839-2355 today.